[edit this]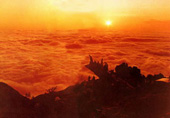 Photo By: Ada
[Change Image]
Shandong Province is located at the lower reaches of the Yellow River in East China, adjoin the Yellow Sea in the east and the Bohai Sea in the north, called "Lu" or "Qilu" for short. It is a strategic place in the coastal area of North China.
Shandong Province covers 156.7 thousand square kilometers, about 38 percent of the size of State of California in the Unites States. It has 3,100 kilometers of coastal line, and has a large population of 92.48 million.
Until 2005, 17 cities and 139 county-level districts under the jurisdiction of Shandong Province , among them 49 districts in urban area, 31 county-level cities, 60 counties. Ji'nan City is the capital of Shandong Province.
With a long history and prosperous culture, Shandong Province is one of the cradles of ancient Chinese civilization. Its long process of civilization development has witnessed countless celebrities including the great thinkers Confucius and Mencius as well as the strategist Sun Wu.
Shandong Province has rich tourism resources——beautiful natural scenes and plenty of places of interests. World Natural and Culture Heritage Mountain Taishan; World Cultural Heritage "Sankong" in Qufu——the hometown of Confucius; Linzi——the ancient capital of Qi State; International Beer City——Qingdao; International Wine City——Yantai; Rongcheng——"the End of the Sky", "the Spring City"——Jinan; "The Ancestor of Divine Mountain"——Mountain Kunyu; Mountain Yishan which has beautiful legends; Liangshanpo where it is famous for the Shuihu Heroes in a famous novel over centuries. All are fantastic destinations for tourism.

Edit by: Ada