[edit this]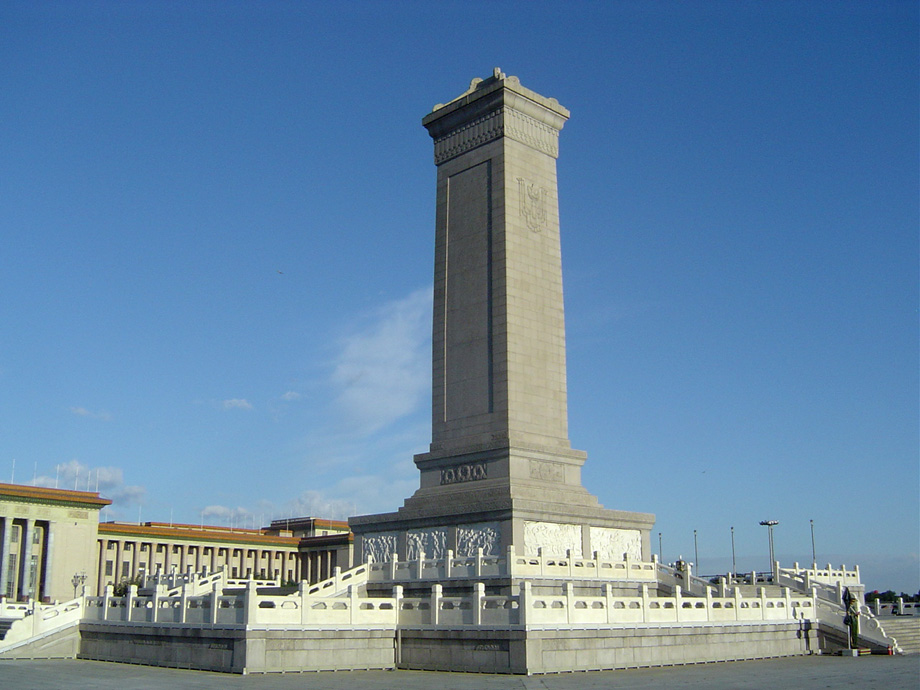 Photo By: ch
[Change Image]
The Monument to the People's Heroes is located at the center of the Tian'anmen Square.
It was built in memory of the martyrs who laid down their lives for the revolutionary struggle of the Chinese people in the past century. It was built in accordance with the resolution of the First Plenary Session of the Chinese People's Political Consultative Conference adopted on November 30, 1949. Chairman Mao and other delegates laid the corner stone for the monument on that afternoon. Its construction began on August 1, 1952, and was not completed until 1958.
The 38-metre-high monument was open on July 1, 1958. On the front is an inscription in Chairman Mao's handwriting:"Eternal glory to the people's heroes!" On the back is the late Premier Zhou Enlai's message: "Eternal glory to the people's heroes who laid down their lives in the War of Liberation in the past three years and the people's revolution in the past three decades! Eternal glory to the people's heroes who laid down their lives in the struggles against foreign and domestic enemies, for national independence and for the people's freedom and happiness from 1840 onward!"
At the top of the Monument are eight gigantic carved wreathes of such flowers as peony, lotus and chrysanthemum, symbolizing nobility, purity, and fortitude. At the base of the monument are eight marble reliefs depicting the Chinese historic events since 1840. They includes, Burning Opium in the Opium War in 1840, The Jintian Village Uprising in Taiping Revolution (in 1851), Wuchang Uprising (1911 Revolution on October 10, 1911), May 4th Movement (May 4, 1919), May 30th Movement (May 30, 1925), Nanchang Uprising (August 1, 1927), War of Resistance Against Japan (July 7, 1937), Successful Crossing of the Yangtze River (April 21, 1949).
In the form of an obelisk, the Monument as made of more than 17,000 pieces of tranite and white marble. The purple piece inlaid in the front of the Monument was brought from Qingdao, Shandong Province. It is 38 meters(124 ft 8 in) high, the loftiest of its kind ever seen in the country. Not only is it an historic memorial for immortal heroes, but also it is an artistic work of excellent architectural value.

Edit by: ch